Welcome to the official website of the Madison County Georgia Republican Party. We are committed to the promotion of Republican Principles.  We welcome any registered voter in Madison County who believes and supports the Republican Principles to participate in our organization. Anyone is welcome to attend our meeting as a guest. If you would like to keep in contact with our group, you may sign up to receive the announcements  and other messages posted on this site in your email. You may also "like" us on Facebook.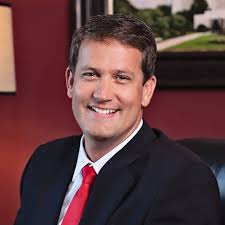 Michael Williams, a candidate for Governor, is the guest speaker at the November 16 meeting of the Madison County Republican Party. A former small business owner, he was elected to the Georgia State Senate in 2014. An early supporter of President Trump, he is campaigning as the anti-establishment candidate for Governor. Join us at 6:30 for a meet and greet, with the meeting beginning at 7:00 PM in the meeting room of the Madison County Government Complex.
There will be a drawing for the raffle of a Glock 19 at this meeting. Tickets are $5 each or 5 for $20. If you wish to purchase tickets, email the party at madisoncountygagop@gmail.com or message us here on Facebook.